Can a Mother's Love Triumph over War?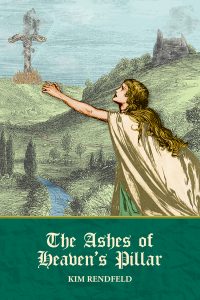 772: Charlemagne's battles in Saxony have left Leova with nothing but her two children, Deorlaf and Sunwynn. Her beloved husband died in combat. Her faith lies shattered in the ashes of the Irminsul, the Pillar of Heaven. The relatives obligated to defend her and her family instead sell them into slavery.
In Francia, Leova resolves to protect her son and daughter, even if it means sacrificing her honor. Her determination only grows stronger as Sunwynn blossoms into a beautiful young woman attracting the lust of a cruel master and Deorlaf becomes a headstrong man willing to brave starvation and demons to free his family. Yet Leova's most difficult dilemma comes in the form of a Frankish friend, Hugh. He saves Deorlaf from a fanatical Saxon and is Sunwynn's champion – but he is the warrior who slew Leova's husband.
Set against a backdrop of historic events, including the destruction of the Irminsul, The Ashes of Heaven's Pillar explores faith, friendship, and justice.
Buy Now on Amazon
"Carolingian Europe comes alive in Kim Rendfeld's sweeping story of family and hope, set against the Saxon Wars. Her transportive and triumphant novel immerses us in an eighth century world that feels both mystical and starkly real." – Jessica Brockmole, author of Letters from Skye
"A captivating historical filled with rich detail, compelling characters, and a well-paced plot that keeps the pages turning to its very satisfying end. A true delight for fans of historical fiction. I couldn't put it down." — Susan Spann, author of the Shinobi Mysteries
"The Ashes of Heaven's Pillar is refreshingly set in a less familiar medieval period – soon after Charlemagne has conquered a portion of today's Germany and its people. The characters are refreshing also, common folk instead of the lords and ladies who are the usual inhabitants of historical novels, and how they adjust to their new condition is fascinating. Altogether, this book was absorbing from start to finish." – Roberta Gellis, author of The Roselynde Chronicles
"The author's prose is absolutely exquisite, crisp and in some way retrospective like challenging our own views in every step. Her narrative style is one of a kind, but mostly free-flowing, interesting and evocative. As the story progressed and as the challenges increased on Leova's paths, the more I lost myself into the complexity and the mysteries, moreover, it pulled me more into the core of the tale and thus I couldn't stop myself from turning the pages." – BookStopCorner
"The Ashes of Heaven's Pillar is a beautifully written, character-driven story. While the story revolves primarily around Leova and her two children, Rendfeld incorporated a rich cast, which combined with all the historical detail created a compelling and satisfying read." – Bookworm Brandee
"The Ashes of Heaven's Pillar is a book I would definitely recommend to anyone who likes a good historical novel – especially one that deals with transitions in power and religion. This book offers a unique and detailed look at a people who were witnessing the end of their way of life and a family that remains faithful to each other to the end." – A Book Geek
"Once again, Kim has spectacular detail, fantastical prose, the crafty storytelling that brings legends to life, and grand character development. I highly recommend for any historical reader who prefers dark ages or medieval literature, but also for readers of history who enjoy a good story that has great heart, and in addition, for those who enjoy good fantasy. It most obviously rendered what could have truly happened to a family at this time, yet it has the feel of a good historical fantasy as well." – Oh for the Hook of a Book
"The Ashes of Heaven's Pillar is a story about how the power of love can win out even when all hope is gone. In Leova we are introduced to a spirited, determined heroine whose courage and will lift her from the era of Charlemagne into the spirit of modern day. She's the sort of heroine a reader loves to cheer for, a heartfelt rendering of a mother and a wife; in short, a woman who will risk everything for the sake of her family." – Literary Inklings
"Although the conflicting religious beliefs of the time are highlighted, over time the novel becomes less a story about the Saxon gods' failed power and more a tale about the strength of individuals and families – and the power of love to heal wounds. This makes The Ashes of Heaven's Pillar not only an authentic-feeling representation of a distant era but one relevant to here and now." – Reading the Past
"This is a poignant tale of great adversity, forced religion, and the enduring bonds of family. It is also a story of redemption and justice, and leaves the reader with a feeling of satisfaction at its culmination. It's a fabulous read, filled with interesting details. And very powerful storytelling!" – Historical Novel Review
"[T]his refreshingly original novel struck a chord with me. It's a tale with no shortage of action, danger, and romantic love, but at its heart it is a story of strong family ties and the courage and resourcefulness of one woman, Leova, who will do anything to protect her beloved children. As such, it's a story modern readers can relate to, despite its long-ago setting." – Tinney Heath
Read an excerpt and the first chapter.