If it weren't for feminism, Kim Rendfeld would be one of those junior high English teachers scaring the bejesus out of her students, correcting grammar to the point of obnoxiousness. Instead, her career has been in journalism, public relations, and now fiction.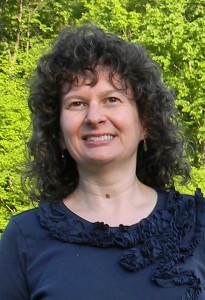 Rendfeld grew up in New Jersey and attended Indiana University, where she earned a bachelor's degree in journalism and English, with a minor in French. She was a journalist for about 17 years at Indiana newspapers, including the Journal and Courier in Lafayette, The Muncie Star, and The News and Sun in Dunkirk, and won several awards from the Hoosier State Press Association.
Her career changed in 2007, when she joined the marketing and communications team at Ball State University in Muncie, Indiana. Rendfeld gets paid to agonize over commas and hyphens, along with suggesting ways to improve writing, and thoroughly enjoys it. She is proud to have been part of projects that have received national recognition.
Rendfeld, a proud member of the Historical Novel Society, lives in Indiana with her husband and their spoiled cats. The couple has a daughter and three granddaughters.
Rendfeld opines about writing, history, and whatever else inspires her on her blog, Outtakes, and welcomes followers on Twitter.
Note to the media outlets and bloggers: You have Kim's permission to excerpt her biography and use her photo appropriately. You are also welcome to use a larger head shot and artistic images. Please contact Kim if you need more info.